Every property, at some time, requires maintenance and repairs. The amount you spend will depend on the age and condition of the property. To keep costs down and preserve your ROI, make sure you're prepared by creating a maintenance budget that addresses both routine and emergency repair needs. Advantage Property Management Services manages both single-family and multi-family rental investments in San Francisco's East Bay, serving cities in Alameda and Contra Costa counties, including but not limited to San Ramon, Danville, Pleasanton, Livermore, Dublin, Castro Valley, and San Leandro.
Preparing for Maintenance Expenses
The most expensive repairs will be for things like the heating and air conditioning systems, roof, electrical or plumbing repairs, and other necessary upgrades. Make a list of all your systems and appliances; note when they were installed and their remaining life expectancy. This will give you an idea of when you can expect to replace some of the pricier items.
Setting Aside Maintenance Reserves
For routine and emergency maintenance, set aside a little bit of what you bring in for rent every month. There are multiple opinions on how much to budget for maintenance each year, and one of them is to set aside one percent (1%) of the property's value annually for maintenance. For example, per the one-percent rule, you would put aside $7,000 each year, if the property is worth $700,000. You probably won't spend that much every year on maintenance, but it's a good idea to have it available for larger repairs in the future. Talk with your property manager; their professional experience can help you estimate and set up this important reserve.
Creating a Reserve Estimate Worksheet
The life expectancy of the property's systems depends on several variables such as its age, condition, location, type of weather it will face, quality of materials used, the way things were installed, and how hard the tenant is on the property. Start by putting together a worksheet of every appliance and system in the property. Include everything from the roof, windows, siding, flooring, paint, plumbing fixtures, appliances, and landscaping, just to name a few. Make columns in the worksheet that reflect the replacement cost and the average life expectancy of each of these items. Don't forget about remodeling—you will eventually need to bring your property to current market condition to compete with newer, nicer properties. With this data, you can estimate when things will need to be repaired or replaced, and how much it will cost. You'll then be able to calculate more accurately how much to put aside monthly and annually for the maintenance budget. Here is a sample worksheet we use for this purpose at Advantage Property Management Services: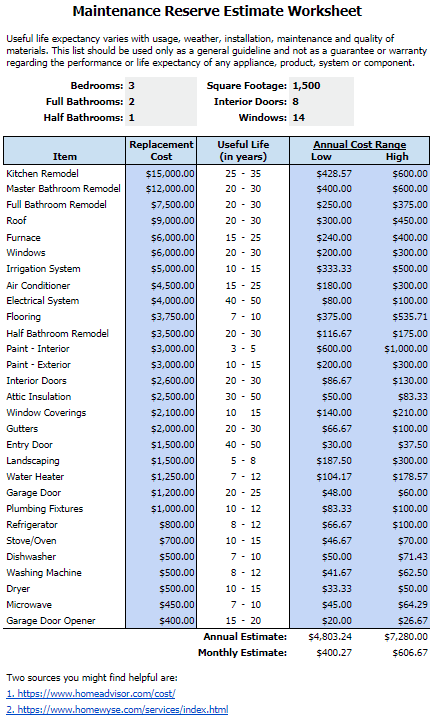 Please contact us for any additional questions you may have about property management in San Ramon and the surrounding areas.