If you're thinking about investing in some renovations and upgrades that will add appeal and value to your Pleasanton rental property, where should you start? We have some ideas. This is an important part of attracting the right tenant. When you want to find a high-quality resident with high standards, you need to provide the property that meets them.
Updates and Upgrades in the Pleasanton Rental Market
To know what types of improvements and renovations you need, take a look at the competing properties in the immediate area. You want to continue updating your property so that it meets the current standards. Residents will want a modern, welcoming home. In today's market, that might mean hard surface flooring instead of carpet. If every rental home in your neighborhood offers stainless appliances in the kitchen, you'll want to provide them, too. Walk through a new model home. This will give you an idea of what the current standards are and what the best residents are seeking in their next rental property.
Timing Your Renovations during Turnovers
Making updates to your property while it's occupied can be disruptive to your residents. Instead, focus on making one improvement to the property during every turnover. Maybe it's lighting. Maybe it's new hardware or new doors. The flooring is perhaps in need of replacement, or maybe double paned windows are where you'll focus on the next turnover. Prioritize what you need, based on your property's age and current condition. Try to appeal to as many residents as possible. Maybe you love bright purple on a wall. It's not going to attract a lot of people. Paint those walls a neutral shade.
Cost-Effective and Attention-Grabbing Renovations
Here are the most important improvements you may want to focus on when you're making renovations:
Paint. Fresh paint makes a rental home feel crisp and modern. Forget those brightly colored rooms. Give the home a neutral, warm feeling.
Check the condition of counters. They should be a solid surface that's durable.
Consider laminate or luxury vinyl plank flooring that looks great.
Recessed lights improve the interior look and feel of your home. They should be LED lights.
Install chrome or brushed nickel faucets and hardware. It looks much better than brass.
Doors and windows can usually be upgraded affordably. Change out the door handles. Replace the window screens.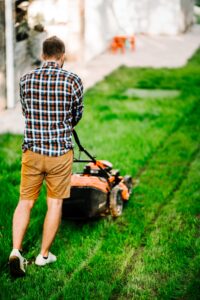 Kitchen remodels can be expensive, but that's usually what will get the attention of your best residents. They'll want bright lights, maybe some tile backsplash, and floors that are easy to clean. Consider replacing those dated oak cabinets. As you work through your list of intended renovations, make sure you're remembering curb appeal. You want to touch up your landscaping. Pressure wash the exterior of the home and the driveway and concrete walkways. Is the mailbox in good shape? Brush away cobwebs that are gathering in the corners of the doors. Does this seem overwhelming? We can take care of all of it for you as your Pleasanton property management team. Let's talk about it. Contact us at Advantage Property Management Services.