Moving a resident out of your property is not as easy as accepting the keys and preparing the home for your next resident. There are a lot of details to manage and questions to navigate, particularly when we talk about the security deposit return and how to hold those departing residents accountable for any damage. Most inexperienced Landlords think every problem in the house should be considered damage, but this is rarely the case. Before you declare something damaged, you have to be sure it's not normal wear and tear. Even if it is damage, you have to consider the expected useful life of the item before withholding funds from the Resident's security deposit. This is a frustrating part of the rental process because there aren't clear, legal guidelines on what is considered normal wear and tear and what is considered damage. You need to rely on experience and a comparison between detailed move-in and move-out condition reports.
Defining and Identifying Normal Wear and Tear
Normal Wear and Tear is the deterioration which occurs from the normal use of a property. All Pleasanton rental properties will have normal wear and tear at the end of every tenancy simply because residents were living there and using the property. For example, the small nail holes in the walls from hanging pictures and the worn carpet in high-traffic areas is normal wear and tear. Everyone's definition of normal wear and tear, however, may be different. That's why documentation is so important. Is it imperative that Landlords take lots of pictures and videos during the move-in walk-through so you can compare the condition of the property at move-in to the condition of the property at move out.It's important to call out cleaning specifically. Cleaning is not subject to normal wear and tear. The expectation is that the property be returned to the Landlord in the same level of cleanliness as it was at move-in. Therefore, it's important to have your Pleasanton rental property professionally cleaned before a Resident moves in.
Defining Damage
Damage occurs because of negligence, abuse, or misuse or the property. Examples of Resident caused damage may include broken window glass, large scratches on the floor, removing a Landlord provided appliance, pet or coffee stains on the carpet.
Understanding Useful Life in Pleasanton Rental Properties
If you determine that a
Resident damaged the property, you must apply a useful life calculation to determine the amount you can charge to the Resident. For example, carpet has a useful life of 5-10 years, depending on quality. If the Resident damages 15-year-old carpet, you cannot deduct for damage because the carpet was already beyond its expected useful life. We use a durable grade carpet that comes with a 10-year warranty and lifetime protection against stains and compression. Understanding the useful life of each appliance, system, and function in your rental property will help you decide how to handle normal wear and tear during turnovers. Consider the life of your paint and your window glass. If a window is broken at the end of a lease term, it's likely tenant damage and not wear and tear. Window glass has a very long useful life because it does not shatter in the normal daily activities of most people. Paint, however, has a 2-5 year useful life, depending on material quality and sheen.
Educating Pleasanton Residents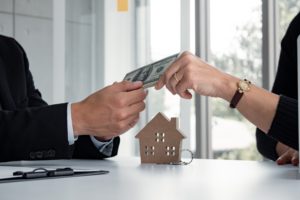 Ultimately, it's in everyone's best interest for the full security deposit to go back to the Resident. It means they've taken good care of your property, and it also means you'll have an easier and faster time getting it back on the rental market. Establish expectations with your Residents at the start of the lease. They need to know you expect to have the property returned in the condition in which it was rented. Share some best practices with them such as:
Replacing all filters during their tenancy and at move-out
Hiring a reliable cleaning company to handle the move-out cleaning
Ensuring all belongings and trash are removed
It's easy for residents to skip these things - they're busy packing and moving. If they know what you'll be looking for, however, they're more likely to leave the property in good condition. As you're considering normal wear and tear and making decisions about the security deposit, don't make deductions for anything you cannot prove was damage. You could find yourself in court and if you lose, you may to have to refund the entire deposit and you may also face punitive damages. Return your resident's security deposit within 21 days, itemize deductions, and include receipts for every single deduction. There are likely a lot of questions around wear and tear and tenant damage. We have some additional blogs on this topic and we'd be happy to talk with you about your own situation. Contact us at Advantage Property Management Services.